SOFTWARE FOR MULTIBRAND MECHANICAL WORKSHOPS AND PART DEALERS
Sales, mechanical workshop, serial number, rent, list and catalog, parts, accounting, statistics and web, all integrated for all brands
ALL BRAND
SOFTWARE FOR COMPANIES IN THE AGRICULTURAL SECTOR
agricultural companies, agricultural consortia, cooperatives, wineries, oil mills, feed mills, dryers, mills, and more
Feactures For John Deere farm machinery and gardening dealers
READ MORE
SOFTWARE FOR MANUFACTURING INDUSTRY AND COMMERCIAL DISTRIBUTION
With CNH/NEW HOLLAND, integrated web interface!
READ MORE
---
" Explore our solutions in only few clicks and watch the demo videos. You will then be ready to configure your preferred solution to your needs. Click on the section about our mission to get to know more about us and find out why you should trust us. After finding the right fit, register for an in-depth consultation with our experts, there is even a bonus already waiting for you! Enjoy! "

" Assist Informatica develop information projects for the organization and control of administrative, commercial and production activities. We specialize in the production of software, delivery of services, and IT and organizational consultancy for the agricultural supply chain industry. Our software solutions are designed for producers of agricultural and gardening machinery, retailers, workshops, spare parts dealers, and end users of the supply chain (such as farms, agricultural consortia, oil mills, wineries), among others. The same applies to the production and distribution in the industrial sector. This uniqueness of proposal makes the offer of Assist Informatica complete and reliable, establishing us as leading partners in the global market. "
"  Start here and consult the content, technical specifications, product sheets, streams, video demos, links and everything else. You will find our most representative solutions below; they are based on Mitico ERP software. You can also browse the other products developed by our team, i.e. customized versions, apps, and services, and the hardware, software and web system equipment which complete the projects. "

Lucio Eugeni & Vinicio Montagnoli
HAVEN'T FOUND YOUR CATEGORY YET?
If none of the categories described above responds to your needs, we will collect your requirements and customize your solution.
CONTACT US

"  Our Mission is to grow our small and medium customers, and to optimize the processes of the big ones using simple yet thorough solutions which are based on our experience, expertise and the best technologies available. All this can be measured by looking at the results and affordable costs. We support our customers towards the improvement of their efficiency in a non-invasive way and we aim to make them gain time through a simplification and optimization of their internal processes. More time available turns into bigger revenues for our customers. "
Vinicio Montagnoli, Lucio Eugeni & Fausto Barcaccia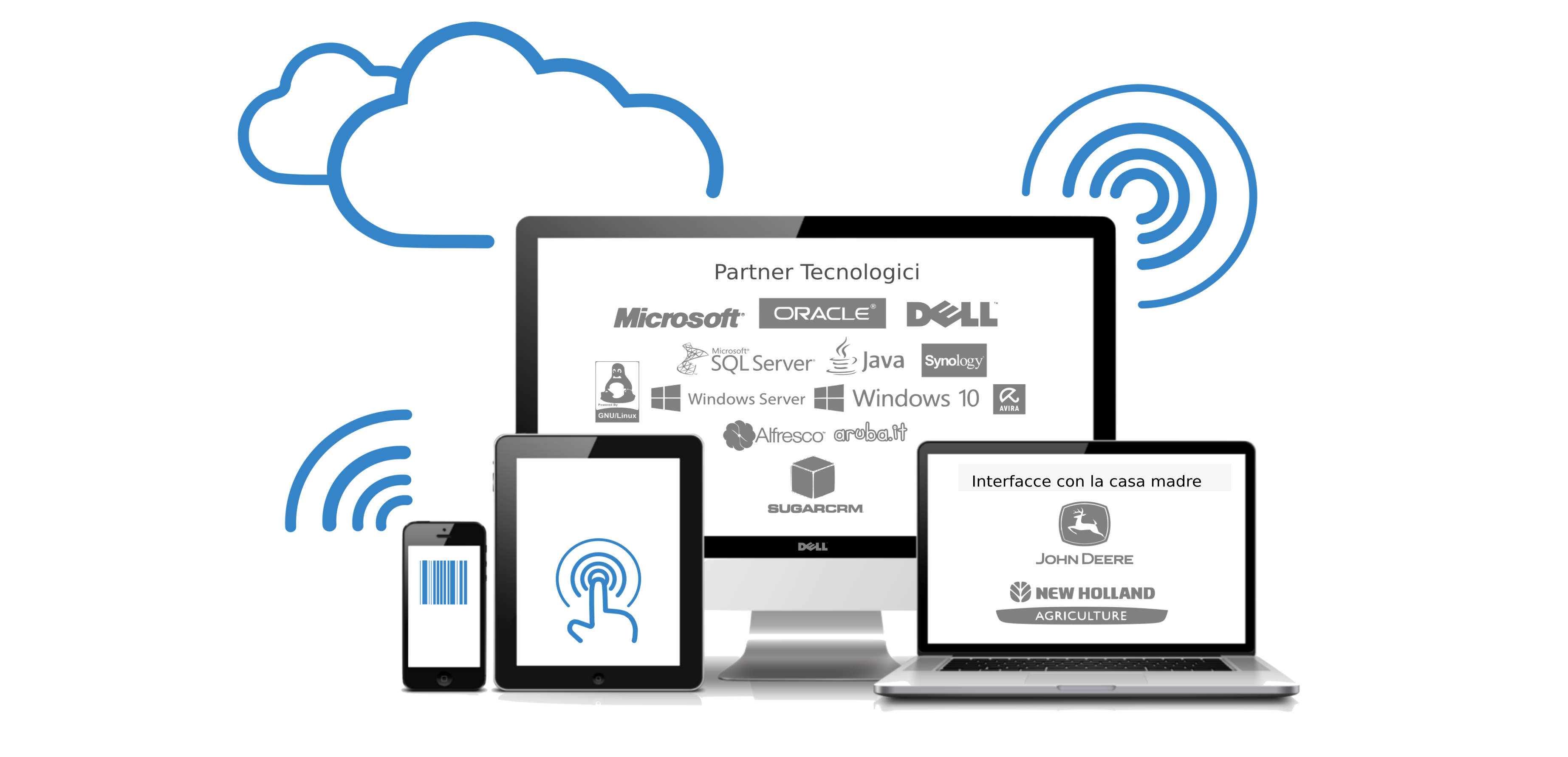 UP-TO-DATE WITH THE LATEST TRENDS
Assist Informatica solutions, software, services and team are ahead regarding technology and innovation. Continuous improvement and learning ensure that our solutions are optimized, simple, sustainable and reliable. We test and shape our solutions with the help of the many manufacturers we work with. The quality of our work and solutions is certified thanks to this process.
RECOMMENDED & APPRECIATED
Assist Informatica develops interfaces in liaison with the parent companies: the relationship between the retailer and the brand is therefore stronger and more productive. Thanks to this, MITICO software is a TOOL that ALLOWS and ENHANCES the dealer networks and FACILITATES the management work. It is therefore RECOMMENDED and APPRECIATED by many manufacturers and retailers.
Click here to read our most representative reviews (in Italian).
CONVENIENT & SUSTAINABLE
35%* of customers, agricultural and gardening machinery dealers, workshops, spare parts dealers, agricultural consortia and the agricultural sector, have chosen our "CLC" COMPLETE LEASE FEES which, for just a few euros a month, include the WHOLE project! The remaining 65%* were instead satisfied with the state subsidy projects (* year 2022)
Read more about our CLC solution (in Italian)
THE COMPANY
Assist Informatica develops, sells and supports all-round services about MITICO software (system and web area) from the 90s. 70% of our activity is dedicated to producers and dealers of agricultural and gardening machinery, workshops, spare parts warehouses and agricultural consortia. The remainder of our activity is devoted to the agricultural industry and distribution in general. We support our wide range of customers (small/medium/large) both on-site and remotely, in pre and post-sales stages.
Download the fact sheet about Assist Informatica (in Italian)
INDICATORS
Find below some KPIs measuring customer satisfaction regarding the quality of our services and software
Customer efficiency growth, measured in effective hours of work gained

35%

Assistance sessions provided within 60 minutes (4400 in 2022 only)

98%

Existing and new customers satisfied

98%

Transfer to Mitico ERP software from a competitor

90%

Satisfaction with interfaces with international brands

98%
THE GROUP
Assist Informatica Developing improvements to the MITICO software, maintaining relationships with manufacturers and partners, participating in IT development projects and exploring new areas and trends are the main missions, together with the management of the company assets and the optimization of activities.
Experience and Quality in Software Development
Customization and Parameterization of Projects
Hours Technological Update * per person/year
Market-leading TOP Customers in Italy who appreciate Mitico